Kin Euphorics - Kin Bloom - Non-Alcoholic Beverage - Single Can 8 oz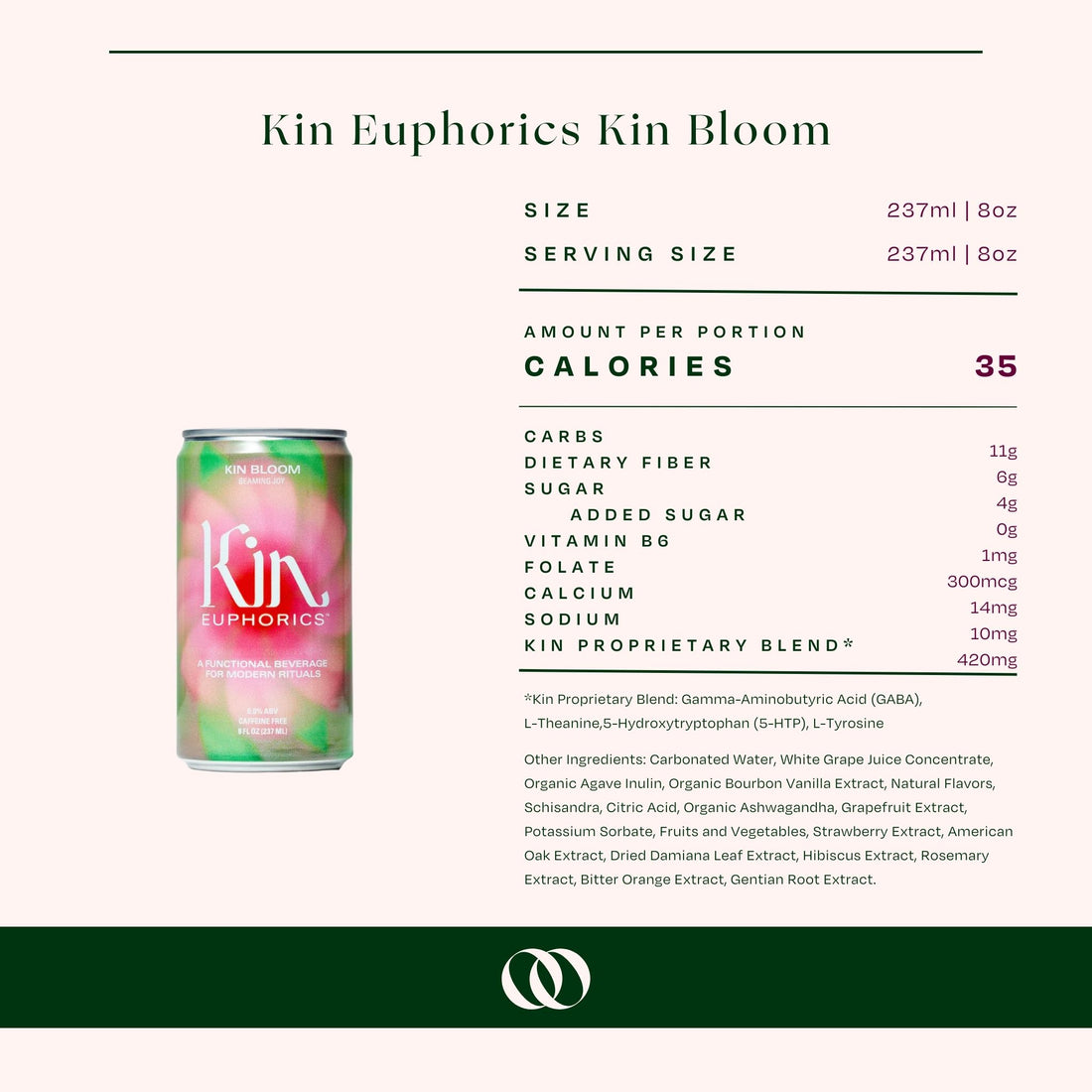 Available to Ship & Available for Pickup or Local Delivery
Kin is a non-alcoholic experience designed to transform the worlds oldest social ritual, drinking, into an act of conscious connection with yourself, your closest kin, and the universe. Inspired by your favorite all-day ros?, only dreamier, Bloom is a glittering fusion of summery strawberry, barrel oak, and rosemary citrus offers heart-awakening joy for any occasion.
Ingredients
*Kin Proprietary Blend: Gamma-Aminobutyric Acid (GABA), L-Theanine, 5-Hydroxytryptophan (5-HTP), L-Tyrosine

Other ingredients: Carbonated Water, White Grape Juice Concentrate, Organic Agave Inulin, Organic Bourbon Vanilla Extract, Natural Flavors, Schisandra, Citric Acid, Organic Ashwagandha, Grapefruit Extract, Potassium Sorbate, Fruits and Vegetables, Strawberry Extract, American Oak Extract, Dried Damiana Leaf Extract, Hibiscus Extract, Rosemary Extract, Bitter Orange Extract, Gentian Root Extract.
 
Nutrition Facts
Product Size: 237ml
Serving Size: 237ml
Calories: 35
Fat:
Sodium: 10mg
Carbs: 11g
Sugar: 4g
Protein:
ABV: