Gnista - Barreled Oak - Non-Alcoholic Spirit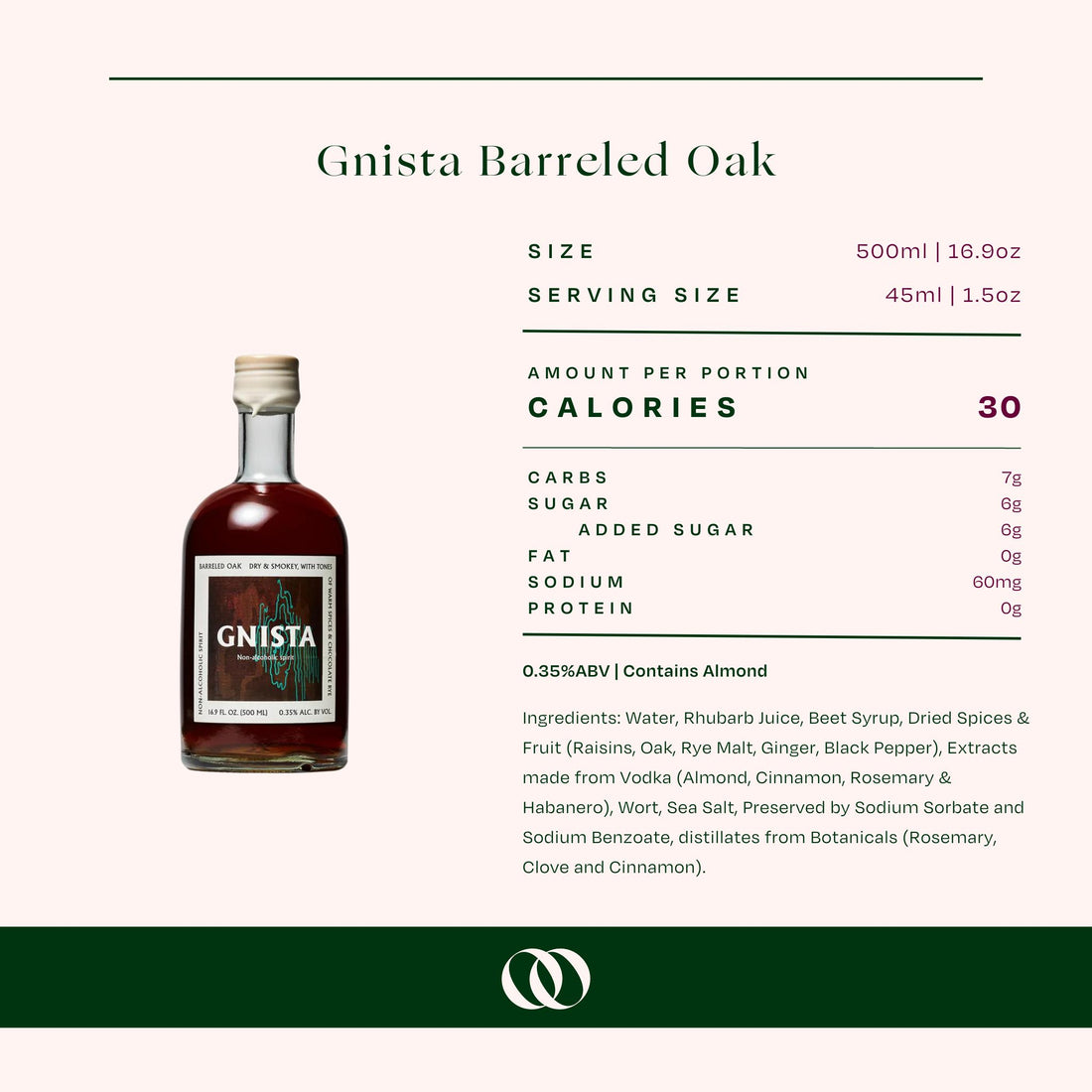 In Stock, Ready to Ship
Description
Nutrition
Ingredients
Gnista hails from Sweden with the mission to create alcohol alternatives that are dark, intense and complex—proper adult beverages. Their Barreled Oak is smoky and sweet, providing a drink worth a pause in your day. 
0.35% ABV 
500ml
HOW TO ENJOY
Complex and bitter, drink slowly on the rocks, mixed with soda, or in mocktails.
TASTING NOTES
Dry and smoky, with tones of warm spices, chocolate rye and a distinct character of oak barrel. The nose is sweet and woody mixed with bitter earth. The taste is full-bodied and a pleasant balance of the sweet, smoky, and woody aromas plus a touch of saltiness.
INGREDIENTS

Water, rhubarb, beet syrup, dried spices & fruit (raisins, oak, rye malt, ginger, pepper, lovage and wormwood), extracts made from vodka (almond, cinnamon, rosemary & habanero), wort, sea salt, preserved by potassium sorbate and sodium benzoate, distillates from botanicals (rosemary, clove and cinnamon)
Contains Almond
Serving Size: 45ml
Calories : 30
Fat: 0g
Sodium: 60mg
Carbs: 7g
Sugar: 6g
Protein:0g
Water, Rhubarb Juice, Beet Syrup, Dried Spices & Fruit (Raisins, Oak, Rye Malt, Ginger, Black Pepper), Extracts made from Vodka (Almond, Cinnamon, Rosemary & Habanero), Wort, Sea Salt, Preserved by Sodium Sorbate and Sodium Benzoate, distillates from Botanicals (Rosemary, Clove and Cinnamon).